Caitriona Carmody – Solicitor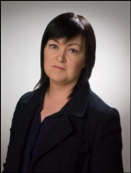 Practice areas: Private Crime and Personal Injuries Litigation
Experience: Caitriona, in addition to specialising in the area of Personal Injury litigation, Crime and District Court practice, also liaises with all of the Solicitors in relation to all other areas of the practice on a regular basis.
Caitriona has been involved in several high profile Private Crime and Personal Injury cases, some of which resulted in published Judgments in the higher courts. She is a regular face and attendee at the local Circuit Courts, District Courts and High Courts, as well as at the Four Courts, Dublin, where the office has an extensive practice in the area of Personal Injury and High Court litigation.
Education: Caitriona graduated with an Honours Degree from the University of London in 1995, and also has a Diploma in Property Tax.
Professional: Caitriona was admitted to the Irish roll of Solicitors in 1995.
About: Caitriona is a native of Cratloe, Co. Clare, with significant ties in the community of Shannon. She is now living in the village of Sixmilebridge, Co. Clare. Caitriona practiced in the North West of Ireland for many years, in the area of litigation, in the District Court, Circuit Court and High Court. After 5 years in the North West, she returned home to set up her own practice in Shannon Town in 2000.
Mairead Doyle – Solicitor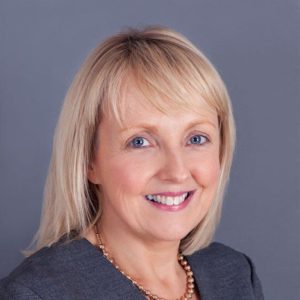 Carmody and Company Solicitors are delighted to announce the recent appointment of Mairead Doyle as a solicitor with the firm.
Practice areas: Plaintiff and Defence Litigation, Personal Injury Litigation, Medical Negligence and Family Law.
Experience: Since she qualified as a solicitor in 1999 Mairéad has practised in all areas of litigation.  She have extensive experience in plaintiff and defence litigation and specialises in Personal Injury Litigation, Medical Negligence cases and Family Law cases.
Mairéad represents private clients in personal injury cases in the Circuit Court and the High Court arising out of road traffic accidents, fatal injury claims, employer's liability and public liability cases. Mairéad advises clients on application to the Injuries Board including fatal injury claims and claims made on behalf of minors.  She has advocated in many types of cases over the years in all courts from prosecutions for Local Authorities to defending road traffic and criminal cases in the District Court to dealing with cases in the Supreme Court.
For over 20 years Mairéad has represented clients at all court levels in Family Law cases in the District Court, Circuit Court and High Court and has ably assisted clients going through the most difficult period in their lives.
Education: Mairéad studied Law in University College Dublin where she graduated with a Bachelor of Civil Law (BCL) Honours degree in 1995.
Mairéad was admitted to the Irish Roll of Solicitors in 1999.
About: Mairéad joined the firm in 2020  having previously worked in the litigation department of Michael Houlihan & Partners in Ennis for 20 years where she specialised in Litigation and Family Law and most recently HOMS Solicitors in Limerick for the last 4 years specialising in private client litigation.
A native of Newmarket-on-Fergus, Mairéad lives with her young family in Tulla where she is kept busy attending camogie matches and trad sessions!  She sits on the Board of Management of Colaiste Muire Secondary School in Ennis and is active in various local groups in Tulla.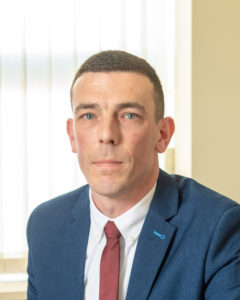 Carmody and Company Solicitors are delighted to announce the recent appointment of Kim Gill as a solicitor with the firm.
Practice areas: Personal Injuries Litigation, Insurance Law, Medical Negligence and Conveyancing.
Experience: Kim has both an insurance and a legal background. Prior to training as a Solicitor he pursued a successful career as an insurance loss assessor, which included setting up and running his own insurance loss assessing business. Kim therefore has 12 years' experience dealing with insurance claims and insurance companies at all levels. In 2015 Kim decided to continue with his legal pursuits and trained with Harrison O'Dowd Solicitors in Limerick. There he gained extensive experience in insurance defence litigation. When Kim qualified in 2018 he joined a firm of Solicitors in Limerick as a plaintiff personal injury and medical negligence Solicitor. He therefore has extensive personal injury litigation experience, from both a defence and plaintiff perspective, at all Court levels. He then moved to a firm in Mayo where he specialised in the area of Conveyancing. He has a lot of experience helping clients with technical applications to the Land Registry including rights of way and adverse possession applications, as well as assisting clients with selling and buying residential and commercial property.
Education: Kim graduated with an Honours degree in Corporate Law from the University of Galway in 1999. He subsequently obtained an Honours LL.B. degree from the University of Galway in 2000. Thereafter he obtained an Honours Masters degree in French and EU Law from the Sorbonne in Paris in 2001. During his time as an insurance loss assessor he obtained a Diploma in Loss Adjusting in 2005.
Professional: Kim was admitted to the Roll of Solicitors in 2018.
About: Kim is originally from Athenry, Co. Galway and currently lives in Corofin , Co. Galway. He speaks fluent French.
Maeve Romano – Apprentice Solicitor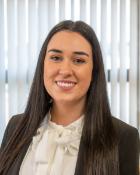 Maeve is a graduate of the University of Galway. She graduated in August 2021 with an honours Degree in Corporate Law and German.
Maeve is fluent in German and Italian and in 2019 she attended Julius-Maimilians-Universitat, Wurzburg, Germany as part of an Erasmus programme where she studied the German legal system through German, taking a comparative view of Irish and German Law.
Maeve is due to qualify as a solicitor in 2025. She works closely with Caitriona Carmody in areas of Litigation, Medical Negligence, Family Law, Employment Law and Conveyancing.